Landishome is a business owned and operated by a mother and son family partnership. Our company was built on the belief that ownership of land can be empowering and that anyone should have that opportunity. Working together, we have a lot of experience from broker to contractor, real estate appraiser, local government representaties and so on. With a skillset honed through the generations, we aim to put that experience to work for you.
Since starting Landishome, we now have thousands of sales completed. Our goal is to make the process as easy as possible for buyers. Buying through Landishome is straightforward, it really is as simple as contacting us and placing a $50 deposit.
Landishome is unique in the real estate business, there is absolutely no pressure, we seek out and handle great land opportunities that are affordable and honestly marketed, and even offer a one-of-a-kind customer satisfaction policy should situations change. We make the process as painlessly, simple and easy as it possibly can for you.
Make your dreams come true:
Own land… Own your home… Own your business base…
Own a farm… Own a camp… Own a hunting retreat…
Own a fishing hole… Own an island…
We help you turn that dream into reality in an affordable, straightforward way. What makes us special (apart from our extensive experience) is the unique way we sell the property:
➢
0% interest-free finance
➢
An easy contract signing process
➢
Paypal, Square
payments
accept
ed
➢
From
j
ust $49 per month

Here's how it works:
You select the property, place your $50 deposit, and we send you a contract to sign and return.
Then make your monthly payments at 0%.
When it's paid we send the deed off to be recorded in your name.
It's all very safe; as we own the land we sell. It is all effortless, and really that simple.
Our job is to find great land around the USA, Canada and beyond, and offer it at a great price, with parcels starting at under $1,000 so anyone can afford to own their piece of land.
We are transparent. So keep in mind the following: $50 deposit is non-refundable BUT still credited to you with us, and you are liable for any taxes due. We want you to feel safe and confident in your purchase, do not hesitate to contact us if you have any questions.
You can pay directly to our Paypal , Venmo , Cash App , Square , Zelle , Apple Pay or use Bitcoin. And more to come. https://landishome.com/make-a-payment/
LANDISHOME.COM and its contents are owned and operated by Skyline Real Estate Services. We hold the right to refuse service to anyone for any reason. And furthermore we are not responsible for anything after the purchase of said real estate or products. Property sizes are not guaranteed to be accurate. All purchases are non refundable. Seller is not responsible for any cost or fees after purchase or down payment. Buyer beware . Buyers are required to do all homework and research before purchase. You can always ask us any questions before purchase or the city/county.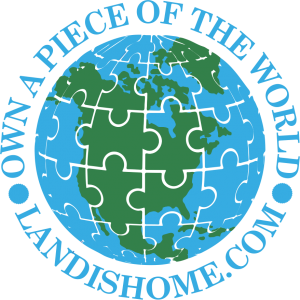 info@landishome.com
P.O. Box 181333
Coronado, CA 92178
---
Other Address
Ecotinycamp.com
Landwealthy.com
Landmillionaires.com
Landistinyhome.com
Wheelestateland.com
Ownapieceoftheworld.com